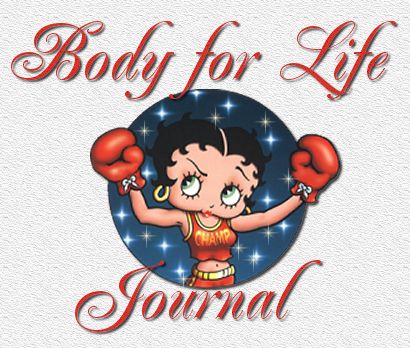 Hi there.. This is my page for my new fitness program, Body for Life.. It is a program created by Bill Phillips and is designed to teach you fitness as well as how to eat.. When I decided to do the program, I was going to record my progress on the computer and then the idea came to me to put it on the internet.. So here I am.. It's going to be sort of an online journal, just for this plan.. I'm going to go week by week and the weeks are listed below.. *S* When the program is over I will put my before and after picture up here, but you will have to wait 12 weeks for them..*L*



My decision to do this program was hard..I have had a really bad weight problem for a while.. About two years ago, I lost alot of weight, mostly through a very deep depression.. There was alot going on in my life and I felt like things were spinning out of control.. I vowed though that I would never be fat again.. Well, I lied.. *L* No, things started to improve in my life, things were happening that lifted that depression and I started feeling alot better and then I started to gain weight.. Not alot, but I could tell I was gaining a little bit.. I consider that time to be my happiest in a long time.. But it didn't last. I lost someone dear to me and I guess I let myself go.. Nothing really mattered.. Over last year, I have gained quite a bit of weight and I woke up not to long ago and knew I had to change things.. I just couldn't live like this.. My husband had been doing the program for 7 weeks by this time.. When he started I was very negative.. I didn't want things to change and I guess I was just a fraid to make that kind of commitment. So far he has lost roughly 40 pounds and has gained alot of muscle (Hubba Hubba). He looks so damn gooooood..*S* And he has just finished week 9. I'm so proud that he did this and I'm glad I put my fear aside and made a commitment to this.. I really am.. I will lose this weight and I will be healthy and I will look like like a million bucks.. There is no reason not to do this. You can't sit around and wish you were thin, you have to make a commitment and do it.. I doubt my hubby and I will ever be unhealthy again...And we are going to live life to it's fullest!! And I can't wait..*S*
That's the preface to this journal, now on to the story...


Week 1