I would like to thank Carolmana for this award..Yeah!! I actually got one!!






Thank you Jennifer for this Teddy Award!! YIPPEE!!! *BS*





Look what I was awarded!!!



MVP for the month of June!!
Thank you CSS NitePearl!!(((HUGZ)))



Thank you so much, Felicia for this beautiful award!!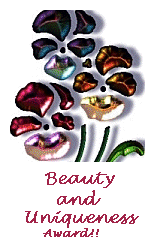 Received on June 21, 1999
Thank you Sherlock for this Cool award.. I think this is the coolest award I have recieved..~L~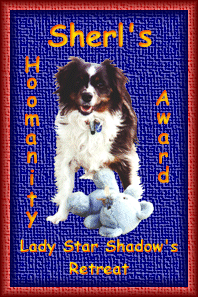 Thank you Simone for this award.. This one really touched me.. It was given to me for my poetry. Thanks so much, my friend..~Smile~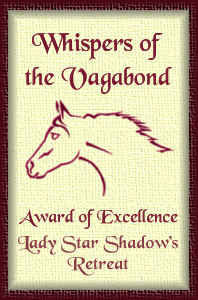 I recieved this award in the mail a few days ago..I thought I would include the e-mail with it.. This award was kind of unusual. I love this ladies style..~L~
"Lady Scorpio chooses a mere ten sites a month among the many thousands that she visits and bestows upon those ten sites her "Award of Appreciation" for the haven that the webmaster/mistress has created on the web for all to enjoy. No link is required, and in fact no link is allowed - Lady Scorpio's identity is a huge secret. You are not even required to post the award. Lady Scorpio only wishes for you to know that she has found your site and is pleased! Blessed be in all your endeavors."